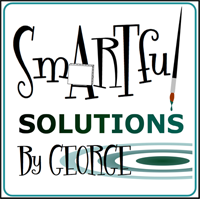 Thanks for visiting the contact page for SmARTful Solutions, By George!
What's your vision? Let us know what you need! Please include the best methods and times at which we may respond to you so we can consult with you and start finding some SmARTful solutions for you even sooner.
Please include all relevant information, answer the quiz question, and hit Send. Spam is strongly discouraged and will be ignored. Thank you for contacting us!
BUSINESS HOURS: 10am-7pm Monday-Thursday, holidays excepted, and by appointment.
Closed Fridays, Weekends, and Federal and Christian Holidays for special events, classes, seminars and personal time. Email anytime via the Contact page; we will get back to you in a reasonable time, but please be professional and respectful and do not call or text outside of business hours.

All content on this site © 2015 SmARTful Solutions By George, LLC, All Rights Reserved.